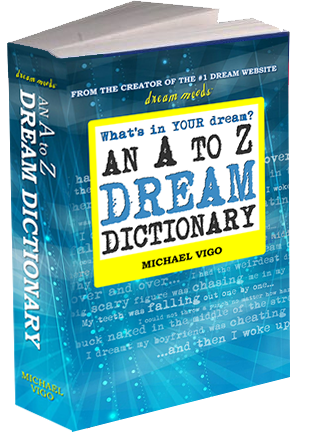 What's In YOUR Dream?
An A to Z Dream Dictionary
by Michael Vigo
This comprehensive 588 page Dream Dictionary contains over 5000 symbols and is available exclusively on DreamMoods.com. So what are you waiting for? Find out what's in YOUR dream!
Price: US$24.98
Payments are processed through Pay Pal. If you wish to pay by personal check or Money Order and reside in the United States, then please download the order form and follow the instructions. If you reside outside of the United States, then we can only accept payment through Pal Pal.
All domestic book orders are shipped via US Postal Service Media Mail. International orders are shipped via US International First Class Mail. Please allow 2 to 3 weeks for processing and delivery of your book.
If you have any further questions about the ordering process, please email media at dreammoods.com. All sales are final.

Have 2 books on dream interpretation, but yours covers so much more, and in depth. Thanks so much for your work in this area of spirituality. --Helene (February 3, 2015)

Firstly, thank you for your dream dictionary. Your dedication to this delicate art of interpretation and chosen right words fill me, often, with smiles of confirming sweetness. I have been consulting your definitions many a morning for many a year. I feel it is the best and most complete dictionary I have had my hands on (and have had quite a few over the years!) as I am an avid dreamer with firm beliefs that sleep is meant for dreams; another world full of messages. They have always led me forward. --
Melissa (June 10, 2012)

I totally love the book and it now lives on my bedside table!! Thanks so much again!! --Andie (September 29, 2010)

Hi ! I purchased one of your dream dictionaries. I like the dream dictionary and it comes in handy when I don't have internet access when I travel. So far out of all the dream dictionaries I have purchased, this is the best one that has everything I need in it. Keep up the good work on your website and your dream dictionary. --Maria (September 10, 2010)